Established in 1997, GolfAsia has been recognized as one of the leading inbound golf tour operators in Thailand, Vietnam, and Cambodia, specializing in exclusive and prestigious golf holiday tours for both groups and individuals. By selecting the finest hotels and only the best golf courses you are assured of a truly memorable experience.
The business of golfing holidays in Asia is based on first class service, and Golf Asia  has invaluable experience in the golfing and travel industries, their packages are always customized to meet your specific needs.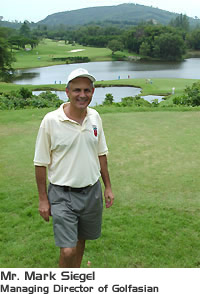 Golf Asia is the only golf company in Thailand to produce various publications about golf in Thailand, including a golf guide book and detailed map of Golf in Thailand featuring  only the top golf resort vacations and courses, with all of the listed hotels and golf courses being carefully selected by the representatives.
The recommended hotels and resorts are visited and inspected on a regular basis, to ensure that they provide the top standard and quality service you would expect during your luxury golfing vacations. Thailand is famed for it's high level of service and quality in the hotel industry, and the goal is to continue this reputation, making sure you receive only the best.
Golfasian gives you the opportunity to experience some of the world's best golf resorts, and enjoy the ultimate golf vacation retreat one expects from the prestige of an exclusive club.

Golf Hotline: +66 (0) 81 987 3170 daily from 9:00 – 21:00
(or earlier if you have a golf reservation)

Established:
1997 in Bangkok, Thailand
Employees:
22
Management:
American, German, Dutch, and Thai
Telephone
Thailand
Mon-Fri
from 9:00-17:00:
+66 (0) 2 714 8470
+66 (0) 81 987 3170
Fax:
+66 (0) 2 714 8471
E-mail:
info@golfasian.com
Toll Free Telephone:
US/Canada : 1 866 550 2284
Germany : 0800 181 8552